Looking for some great ideas for your home? There's something for everyone in this preview of 2017 design trends. We plowed into Houzz data, sifted through popular photos and articles, and talked to industry leaders for this look at 10 things we think you'll be seeing more of in the home in 2017.
1. Satin brass. Brass finishes have been making a comeback in recent years, cherished for their ability to bring shiny golden tones to a space without the high price tag. But more recently, designers like Elizabeth Lawson have been turning away from the reflective finish of polished brass and embracing satin or brushed brass, which is more muted and warm.
"I especially like a satin brass finish because it's transitional and can complement a number of styles," says Lawson, who used the finish in the kitchen shown here. "It also looks amazing against almost any colour of the rainbow. I think we'll continue to see rooms with satin brass for quite some time and also possibly mixed with other finishes for a more eclectic look."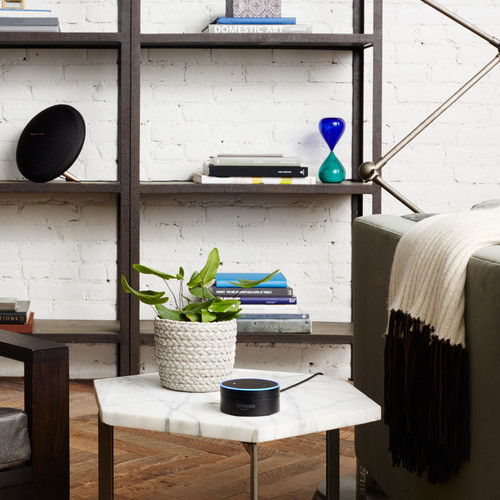 Amazon's Alexa, which is enabled in the Echo Dot shown on this side table, acts as a voice-activated interface for many smart home devices. Google Home's voice assistant launched about a month ago.
While these technologies will not be available too soon in South Africa, it's something to look forward to in the future.
3. Vanity conversions. If you're having trouble finding the right pre-manufactured vanity for your home, try thinking outside the cabinet box. Many savvy homeowners are finding chests of drawers, old file cabinets, vintage consoles and more, and converting them into one-of-a-kind vanities.
4. Hardworking kitchen storage walls. In search of more open space, many homeowners and designers are doing away with expanses of upper cabinets and pushing all that storage onto a single hardworking wall. This one-stop hub frees up the rest of the space to create a breezy look.
5. White with off-white. There's just something refreshing about a room bathed in white. But when done in one stark white tone, things can start to feel clinical. Balancing a white palette with creamy off-whites and natural linen hues creates a breath-taking look that can be rich with character.
6. Greenery. Pantone's verdant colour of the year for 2017, Greenery, seems to be an instant hit for those looking for a revitalizing, back-to-nature hue that brings zest while still managing to work with warm wood tones.
7. Splurging on laundry rooms. Everyone knows that kitchens and bathrooms get the big remodelling Rand's, but many homeowners are seeing value in making every space look great. And laundry rooms in particular are seeing more love. Design tricks to bring in more light, smarter storage and better function resonate with homeowners who realize that since they spend a lot of time doing laundry, why not do it in a space that makes them feel good?
8. Splurging on entryways. The entry, like a powder room, is a compact place where you can have fun with design without blowing a budget.
Sometimes all it takes is a small area to feature, a fun piece of wallpaper, a statement mirror or a narrow table with a tray for shoes underneath. After all, first impressions matter.
9. Outdoor-feeling indoor showers. An outdoor shower is highly desirable but not practical year-round in most areas of the country. To get around the weather dilemma, designers and homeowners are looking to intimate courtyards and strategic site placement to create bathrooms that connect deeply to the outdoors while still maintaining privacy.
10. Counter-depth fridges. For small to modest-size kitchens, remodelling is often a game of millimetres. Counter-depth refrigerators sit flush with adjacent cabinetry and countertops, freeing up just a bit more space while creating a streamlined look.
We hope you enjoyed the read and look forward to the coming trends, while all tastes and style selections differ, Famous Dave will make your space stand out.
Regards
Famous Dave